How long does it take to write a blog?
July 18. 2022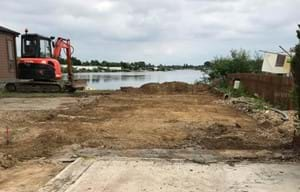 How long does it take to write a blog?
In my case, it has taken a year and two hours: that's 365 days of saying to myself 'I will start writing a blog.' until today, which is the day I stop running out of excuses, and do it. Why? Because today our holiday let the Lakeside Retreat at Tallington is one year old.
How do you set up a holiday let?
Probably not the way I did! I visited Tallington Lakes for the first time on June 25th 2021, and loved it. It was a grey day, quite hot and drizzly. My partner Pete and I walked around the lake, and looked at plot 33, which was one of a few available. After that, we looked around a show lodge and I knew at that point I was going to do it. For appearance's sake, I told Pete I would 'think about it' over the weekend, but I do confess I rang the site and said I would be back on Monday to sign on the dotted line. Amazingly, the lodge I chose was sited on the 14th July, which is a good job as I had guests booked in for 4 days later. Luckily these guests were a family that I know, so if there were any glitches I knew Amanda would tell me, and not the whole world via Tripadvisor!
It was a huge risk taking bookings before it was in situ, and I only managed to do so because of my neighbour sending me photos of the view, and by some clever posts about things I was buying for the lodge.
On the day Amanda arrived, the jetty didn't exist, the garden was unusable (I deliberately hadn't mentioned these in my description, so they weren't expected) and it was HOT!
I had spent the previous day visiting at least three shops in Leicester, along with all the other people who live in Leicester, in a desperate search for a parasol for the decking. I drove it over, hoiked it into position, only to find that the parasol did not slot into the base.
I cried.
Then I put my big girl pants on, googled local garden centres, dashed to the closest one and literally bought their last parasol and base. And I cried, again, in the shop, but at least I had a parasol. (Incidentally, guests who visited a few weeks later complained that the parasol wasn't good enough. We now have a full width canopy which provides fabulous shade)
Luckily air conditioning had been fitted two hours before Amanda's check in time, and I stood in front of it to cool off with 10 minutes to spare: the Retreat was ready for its first guests.
The costs of running a holiday let.
Sounds like easy money , doesn't it? It's not. There is a misconception that selling holidays that cost over £1000 a week means that self catering accommodation providers are quids in. Some might be, I'm not.
Because it's not bricks and mortar, the lodge will decrease in value over time so I have to recoup my initial outlay, which was over 100k, plus I managed to spend 20k in the first year on making it more of a luxury experience, with air conditioning and fancy pants seating. On top of this, the running costs are about 8k a year. I have the lodge for 20 years, then it has to be moved off site. So, realistically, thinking about when I will be too old for this malarkey, based on 15 years of providing holidays the Retreat needs to bring in 244k over 15 years BEFORE PROFIT! That's 16k a year BEFORE PROFIT! Yikes! That's ALL the school holiday income. Any income over the 16k per year will be my wage.
Is it hard work running a holiday let?
Yep, it certainly is. Luckily, I now live nearby, which is soooo much easier than living 40 miles away! Changeover day will see me walking many times from my lodge to the Retreat, back and forth with arms of washing, clean laundry and welcome pack goodies. On a good day, I can get the laundry washed, on the line, and back on the beds in a few hours thanks to the helpful combination of sun and breeze off the lake.
Nearly all of our guests have left the lodge in a super clean and tidy state, and I really wish there was some public way to acknowledge this. Between you and me, I've only had a few negative experiences. From a cleanliness point of view, I have had to deal with a wet nappy being left under a bed, a grill pan full of bacon fat, crisps on the floor in every room, blood on a carpet, and grotty toilet seats ( remember to check them underneath, please, lovely guests!). In other news, named guests inviting other people to stay and not asking me is a major breach of contract. In the words of Keira Knightly in Love Actually 'I'm nice, I'm really nice,' so please, just ask me so that I remain insured during your stay!
Sykes, Tripadvisor vs #bookdirect
Before I knew better, I listed the Retreat with Sykes. What a nightmare that turned out to be. Not only did they immediately share all my details with at least 30 subsidiary websites, which had the effect of making my own website appear right down the rankings on Google, they decided to discount my holidays from September to March, which meant that after their cut, I only just broke even with the one holiday they sold . I cancelled my contract, and after many hours of battling, I have had to pay them nearly £900 for ending the contract early. Drawing a line under that.
Tripadvisor is great as a trusted platform for reading reviews from genuine guests, but they take a massive cut if a guest books with them, so please, by all means read the reviews, but then #bookdirect with the owner. A recent guest has paid £1016 for a 4 night stay via Tripadvisor, I will get £776, meaning the middle man has got £240.
There are scammers, but do a little digging and you'll soon be able to see if that booking that seems too good to be true is actually true or not.
What would I have done differently?
Isn't hindsight fabulous? There are some things I would have done differently:
I would have insisted on the garden layout being the same as the diagram on the email that I sent to the grounds team, which wasn't looked at, and therefore has an extra gate and extra steps to what I asked for.
I would not have joined Sykes.
I would not have refunded the guests who had to go home early because they were cold, had bad chests, and said there was no hot water. (I refunded them, anxious to please, and then drove 80 miles round trip to find cigarette butts on the decking - it's non smoking- and saw that they had turned the water temperature to zero).
I would not have bought so much bedding.
I would not have bought so much seating.
I would not have given the full deposit back to the people who left the wet nappy, the blood on the carpet, the bacon fat in the grill pan, the crisps on the carpet.
That's not much, in the scale of things.
Ending on a positive note
Reading the comments in the visitors book, the reviews we get (keep 'em coming please!) , that moment when the lodge is set up and looking gorgeous, ready for the next guests, all of these are really enjoyable for me. I also enjoy doing the advertising, and, now that I've done one, I realise that writing a blog might be fun too - so maybe it won't be a year until the next one!
Watch this space!